Spring has got off to a bit of rough start, but on the heels of Orthodox Easter we're beginning to see some more clear skies and sunshine. Athens bursts into bloom during March and April; wildflowers open, trees sprout, and pastel-green pollen sweeps the floors and roads of the city. This blossoming time is one of the best to explore the city's extraordinary mountain nature, and one of the best places to do that is on the limestone mountain of Likavitos.
(Photo © Guillaume Piolle, from Wikimedia Commons)
Likavitos (commonly anglicized as "Lycabettus"), located in the chic downtown neighborhood of Kolonaki, can be seen from the Acropolis as a stout mound with a stretching green bottom and snow-white tip. That tip is the chapel of St. George, poised at a breathtaking altitude from which you can see the whole valley of the city, edged by the distant blue sea.
If you go by car, a sloping mountain road will take you to a high plateau, hosting some parked cars of visitors and a canteen to get last-minute waters or load up on chocolates, chips, or even a small burger. Yet the wide, open plane still exudes an air of calm and peace, the brilliant blue sky stretching high above (if you arrive in good weather!).
The slopes extending down from this plateau are thriving with grasses and wildflowers, not to mention a particularly enchanting set of stone stairs.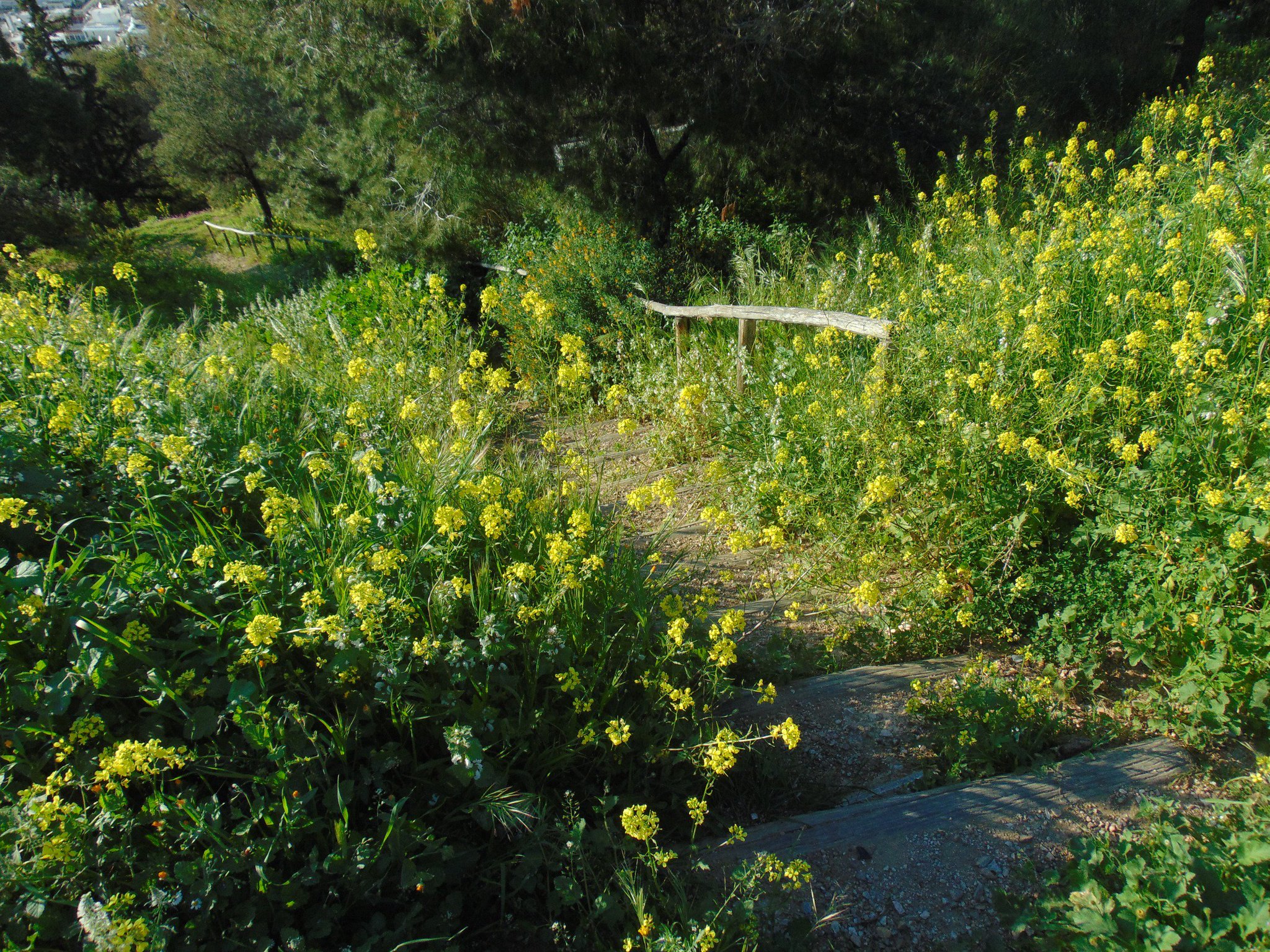 Follow along the winding dirt road and take an upward turn for a climb along the edge of the slope. Here the road thins and verges upwards, bordered by pine-needle trees and wild bushes of pointed orange flowers. Scattered about are star-shaped wildflowers blooming in groups beneath the bushes or on their own the dusty ground.
Walk far enough and you'll come to the side of the Likavitos amphitheater, protected by a rusted wire fence. It's often used for concerts during the summer months, where the likes of Bob Dylan, Black Sabbath, Chuck Berry, Placebo, and many others have performed.
On a weekend or holiday, you'll often see couples and friends chatting by the roadside, taking in the view.
The name "Likavitos" is oft-cited as originating from the word "likos", meaning "wolf", supposedly attributed to the wolves that prowled the area in ancient days (some translate the name as "path of the wolves" or "where the wolves go").
The driveway up the mountain is at the end of a Kolonaki road named Ploutarchou, which you can view on this handy map. There's also a cable car, located on the Ploutarchou and Aristeppou streets, which carries you straight up to the chapel.
Take advantage of the coming spring and treat yourself to a nature walk in the coming bright spring days! Also, stayed tuned for The Athenian Site's own Easter Edition of The Holiday Chomp, coming soon!